CONTEXT: The region of Zuid Limburg is under pressure to maintain a balance between nature and its remarkable historic landscape of lush, rolling hills, and a steady urban sprawl, intensification of tourism and the need for expanding and optimizing infrastructure. Studio Memo was invited to be part of a think-tank to develop scenarios and a strategy for combining these seemingly conflicting facets. Our work culminated in a vision of Layering the Landscape, where our focal points were four Green Corridors.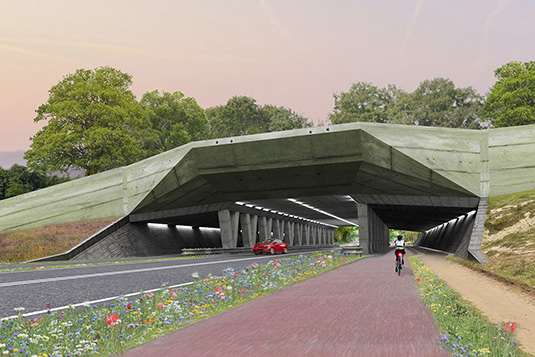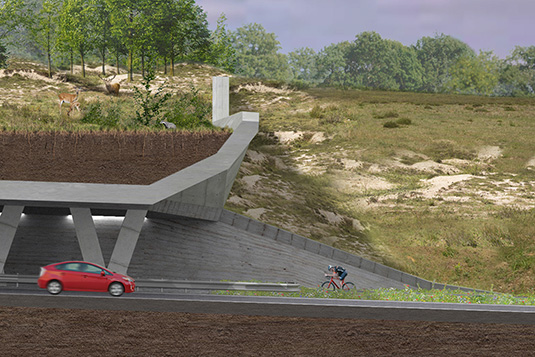 Four zones were identified as key-components of our masterplan. These zones would undergo transformation in terms of connecting landscapes, transforming farmland to wildlife area, extending recreational and nature trails, introducing tunnels and wildlife bridges (ecoducts), closing ecological high-impact facilities and finally stringing together over 60km of uninterrupted wildlife area jumping back and forth between the Dutch and German border.
Zone 4 was the most ambitious and complex of these zones. It is located on the Dutch-side of the border with Germany, between an active and a closed landfill. The area has been in transition for 20 years, and the Green Corridors vision aims to accelerate and finalize that transition: closing the active landfill, establishing an ecoduct and connecting the Dutch nature reserve Brunsummerheide and the German Teverener Heide.
The Green Corridor vision for Zone 4 has since developed to allow the active landfill to stay operational until 2030. In order to still realise the important corridor between Dutch and German nature, the final location of the ecoduct was moved two hundred meters to the North-West. Construction has started in the spring of 2020 and the ecoduct is expected to be completed by early 2021.